Tool Palettes    
The Tool Palettes function provides an efficient way to organize, share, and store "tools", such as blocks, hatch patterns, entities, and even content from third-party developers.
---
 Field
Sometimes you need to update textual information in drawings. This painstaking task is solved with the field function. It updates information for you automatically.
---
Table
The Table feature lets you easily create neat tables just in a single step. In-place editing allows you to edit the contents of table cells, just as if you were working in Microsoft Excel. In addition, tables can export and import data files to and from Excel spreadsheets.
Design Center
The Design Center allows you to search and access any CAD resource stored on your computer or other computers on your local network. You can insert content in the current drawing, such as dimension styles, blocks, text styles, line types, and even layers from other drawings.
---

Layer Properties Manager
The Layer Properties Manager lists all the layers and their properties for batch processing. By editing the properties and applying changes in the manager, you will find the visual complexity of a drawing greatly reduced.
---
Friendly User Interface
The Windows-style user interface of ZWCAD Classic arranges the menus, toolbars, command line, and dialog boxes in a way that is familiar to Windows users. This lets you begin working with ZWCAD Classic right away. The Drawing tabs make it easy to switch between open drawings.
---
Customizable User Interface
You can customize your ZWCAD Classic menu, commands, toolbars, hotkeys and alias. ZWCAD Classic is bringing you the most comfortable design environment to allow for the most efficient work.
---
---
File Compare
File Compare function helps you find differences between two similar-looking drawings. It highlights differences by color coding changed objects, blocks, and even external references. You can customize the comparison settings, such as colors and filters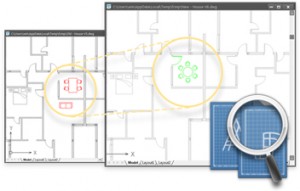 ---

Breaking Dimension Line
Dimension break function breaks dimension lines where they cross other lines — without splitting the lines, which make the drawing much more clear. And the broken dimension lines are still easy to adjust.
---
External Reference 
Insert entire DWG files as external references. This lets everyone on your team collaborate together on big designs, yet won't increase the drawing file size by much.
---
Solid Profile
The Solid Profile feature creates profiles of 3D solids with ease. You can specify 2D and 3D profiles. Hidden and visible lines are placed onto different layers automatically.